Returning to Canberra now, and a separate fracas has erupted in ABC estimates over a speech Four Corners reporter Louise Milligan gave to the ACT Women Lawyers Association on October 21.
Liberal senator Sarah Henderson has tabled a letter of complaint from ACT bar association president Rebecca Curran which calls Milligan's speech "insensitive and polemical" and said members were left "deeply offended and distressed".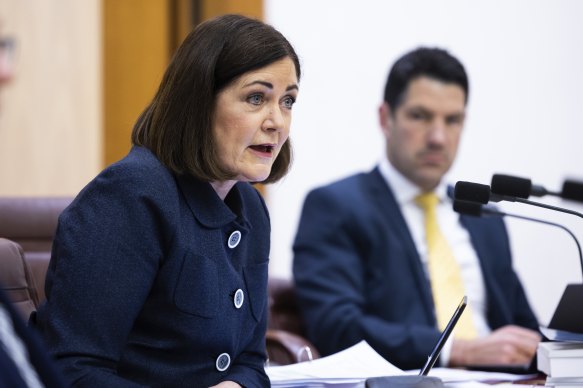 Henderson, the Coalition's communications spokeswoman – referring to the letter and media reports of the event by The Australian newspaper – asked ABC boss David Anderson the following question:
Do you agree with what Ms Milligan has said in her speech, reportedly including condemning lawyers or criminal lawyers who defend those people who are charged with crimes such as sexual assault?
Anderson said he had not read the speech or attended the event, but a senior editorial manager had since reviewed the speech and concluded that there's "absolutely no problem with what Ms Milligan said on the day".
Henderson read parts of letter onto the record, including the following section:
She [Milligan] demonstrated no understanding of the difficult and powerful work done by barristers of all genders. There were other significant problems with Ms Milligan's speech. She seemed to encourage lawyers to run cases in the media and promoted misconceptions concerning the criminal justice system.
Anderson told the hearing the complaint had not been sent to the ABC, the event was not connected to the ABC, and Milligan had not been representing the broadcaster at the event.
Henderson emphasised "one particular, very concerning comment made reportedly by Ms Milligan and she seemed to suggest that women, when making allegations, should always be believed". The senator went on to allege that Milligan was bringing the ABC into disrepute.
At one point, Greens senator Sarah Hanson-Young weighed in to query why estimates was being used to ask the ABC about a letter "that was not written to them, not sent to them, not addressed to them".
Labor chair Karen Grogan repeatedly called the hearing to order and suspended proceedings multiple times in a bid to regain control.
As the exchange unfolded in estimates, Milligan took to Twitter to allege that Senator Henderson's claims were "completely fictitious. And the opposite of what I said in my speech".
"This is the second time she has told something to parliament about me that is completely inaccurate. Rebecca Curran from the ACT Bar Association both thanked me for my speech and pitched me a story on the night," Milligan tweeted.
"I challenge senator Henderson to repeat these false claims outside parliament."
Henderson and Liberal senator James McGrath subsequently seized on the tweets to question whether they breached the ABC's code of conduct.
Henderson labelled the tweets "disgraceful" and "prima facie defamatory", and accused Milligan of "going rogue".
Anderson agreed to review the tweets and respond at a later date.