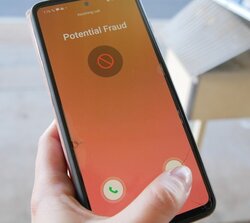 The Australian Communications and Media Authority (ACMA) has revealed the top five phone scams currently being reported to it.
Chair of ACMA, Nerida O'Loughlin said the most reported scam in the past three months was an Amazon impersonation scam which saw scammers call to collect people's personal details under the guise of an issue with their Amazon account.
"Similar scam calls purporting to be from banks, NBN Co, Telstra and eBay make up the rest of the top five," Ms O'Loughlin said.
She said banking and finance impersonation scams came in second, with victims told their accounts had suffered suspicious activity, unauthorised debits, or had been suspended.
Ms O'Loughlin said NBN and Telstra impersonation scams, coming in third and fourth place respectively, attempted to gain access to people's computers and personal information by claiming there was a fault with their internet or service.
Clocking in fifth, she said eBay impersonation scammers used a recorded message to claim victims had made a purchase that required a charge to their account.
"We have been working hard with the industry to get them to stop scams before they reach people," Ms O'Loughlin said.
"In December 2020 we introduced new rules requiring telcos to identify, trace and block scam calls," she said.
"To the end of September, telcos have stopped more than 800 million scam calls reaching Australians."
Ms O'Loughlin said that in July this year the Authority brought in new rules to combat the problem of SMS scams, with early indications of how the rules were operating showing promising results, with nearly 48 million scams blocked from July to September this year.
She said ACMA's scam telco action taskforce was also coordinating efforts across industry and Government on scam minimisation strategies.
"But regulators and industry must continue to adapt as scammers become increasingly agile, sophisticated and inventive," Ms O'Loughlin said.
"And all consumers need to exercise caution when dealing with companies by phone or online," she said.
"All five of the top reported scams impersonate trusted and well-known businesses, with scammers often displaying a fake number or sender information on your phone to make the contact look legitimate."
Ms O'Loughlin said many businesses clearly stated they would not contact customers out of the blue or send messages with links seeking financial information or personal details.
"So always treat these calls with caution," she said.